14 June 2018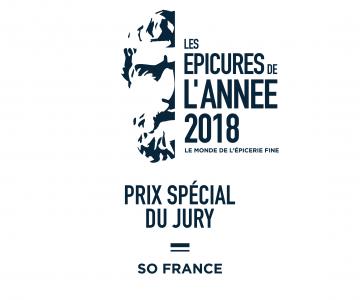 On 11 June 2018, Thierry Blandinières, CEO of InVivo, accepted the Epicures 2018 Special Jury Prize for So France, Le bistro-épicerie, a concept store that recently launched in Singapore on 21 March, from Patrick Scicard, former CEO of the Lenôtre Group .
This ceremony closed the fifth Epicures World of Delicatessen at Pavillon Dauphine in Paris. Epicures, held annually in June, focuses on the World of Delicatessen, bringing together the best in the industry, including products, best practices and artisanal producers. So France, Le bistro-épicerie participated as a new concept to win a label of excellence awarded by a panel of experts.

So France or the French Bistronomy Concept
So France, Le Bistro-Epicerie is a 5000+ sq. ft. concept store that was created through the collaboration of the Nouvelle-Aquitaine Food Agency (AANA) and InVivo (France's top agricultural cooperative group) to deliver the 100% French experience to customers. Located in the heart of Singapore in the bustling precinct of Bugis, it brings together a bistro, wine bar, grocery store and wine cellar to showcase the emblematic products of French gastronomy.
As an ambassador of French gastronomy abroad, So France offers an exclusive range of artisan produce, world renowned wines and French delicacies direct from the rich terroirs and particularly from the Nouvelle-Aquitaine south-west region of France. The warm hospitality and specially curated menu is authentic yet affordable makes it possible to break the elitist and expensive image of French cuisine.
Members of the Epicures' Jury 2018 :
Patrick Scicard – Président du Jury / Président PSI et dirigeant de la Maison Lenôtre pendant 17 ans
Pierre Hermé / Pierre Hermé Paris
Christophe Balaresque / Directeur Marketing et des marques de luxe, Arjowiggins
Emmanuelle Touboul / Responsable Food & Beverage,Le Printemps du Goût
Pascal Mièvre / Épicerie Fine Rive Gauche, Paris
Alessandra Pierini / Épicerie Rap, Paris
Dominique Ferrero / Maison Ferrero, Ajaccio
Marc Ifrah / Architecte Bruno Lecoq / Directeur de la rédaction Le Monde de l'Épicerie Fine
Marie-Édith Lecoq / Dirigeante Le Monde de l'Épicerie Fine
More information :
https://epicures.monde-epicerie-fine.fr/