7 February 2018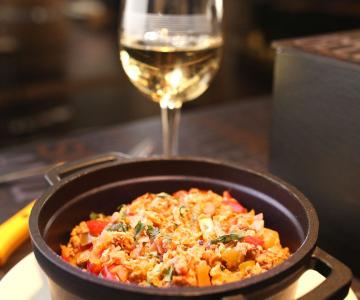 The bistro menu was created by Chef Frédéric Coiffé, named 'Maître Cuisinier de France' in 2008 and second runner-up in the 2010 Bocuse d'Or. A chef for 25 years, Coiffé has worked at major Michelin-starred restaurants including Richard Coutanceau in La Rochelle and Alain Ducasse in Paris.
The chef is also a product of the southwest, and in 2010 created the 'Atelier du Goût' in Bordeaux where he pairs cookery courses with tastings of the dishes his customers have created. His motto is exchange and sharing: he likes to pass on his love of French cuisine and local produce. Constantly simmering away, Frédéric Coiffé opened a second Bordeaux restaurant in 2017 in the covered market opposite La Cité du Vin.
Created with passion, the So France menu was not easy to put together, in particular because the French products used are still not widely known among Singaporeans. This menu reflects Frédéric Coiffé and what he likes to call his DNA: simple, high-quality products, the majority of which come from Nouvelle-Aquitaine. The So France menu will also showcase typical dishes which are nevertheless often little known in France. Choux buns or the Basque speciality of talos will be embellished with elegant, high-quality products to create unique recipes.
Frédéric Coiffé is also aiming to showcase friendliness and sharing with nibbling platters like those you would enjoy with friends.
(c) Quentin Salinier